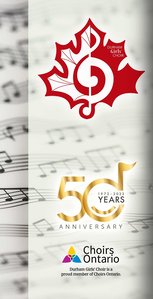 A rich local history
Originally named the Oshawa Festival Singers, the choir was founded in 1972 by Elsie Drygala. The group built an award-winning reputation through participation in local and national music festivals, going on to release two LP records. Later renamed as Durham Girls' Choir, we embarked on our first international tour in 1986 with performances in the Netherlands.
Over the next several decades the choir continued to tour, and to encourage members to develop musicianship, self-esteem, and confidence — ensuring the musical growth of both the choir and its members.
Today, our accomplished and dedicated program leaders continue our founder's vision to bring together girls and young women from across the region, as they explore their passion for singing.