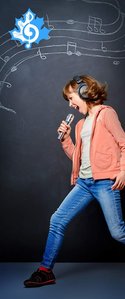 Pricing:
Our 2023-24 membership fee is $325 (full season, Sept. to May). Sibling discounts of 50%, installment plans and bursaries are available.

Rehearsal Schedule:
Our rehearsals take place on Monday evenings at Ritson Road Alliance Church (605 Ritson Rd. North, Oshawa). Durham Girls' Choir is not church-affiliated. We are an independent community choir, and simply rent this space for rehearsals.
Rehearsal times:
Junior singers (aged 7 to 11) rehearse from 6:30 to 7:30 pm.
Senior singers (aged 12 to 18) rehearse from 7:30 pm to 9 pm.